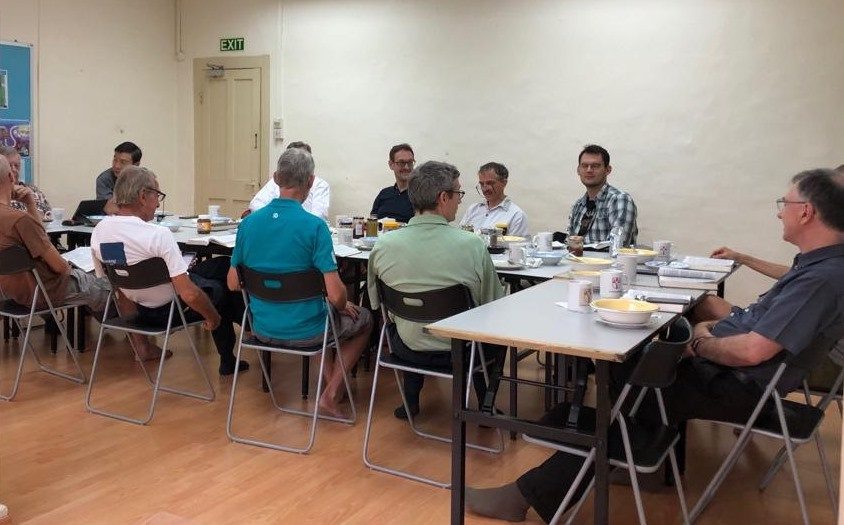 Groups of believers who meet around God's Word at a designated time and place during the week.
To study God's Word, support and encourage each other in prayer, faith and fellowship. Small groups are a great way to get to know other members of the church.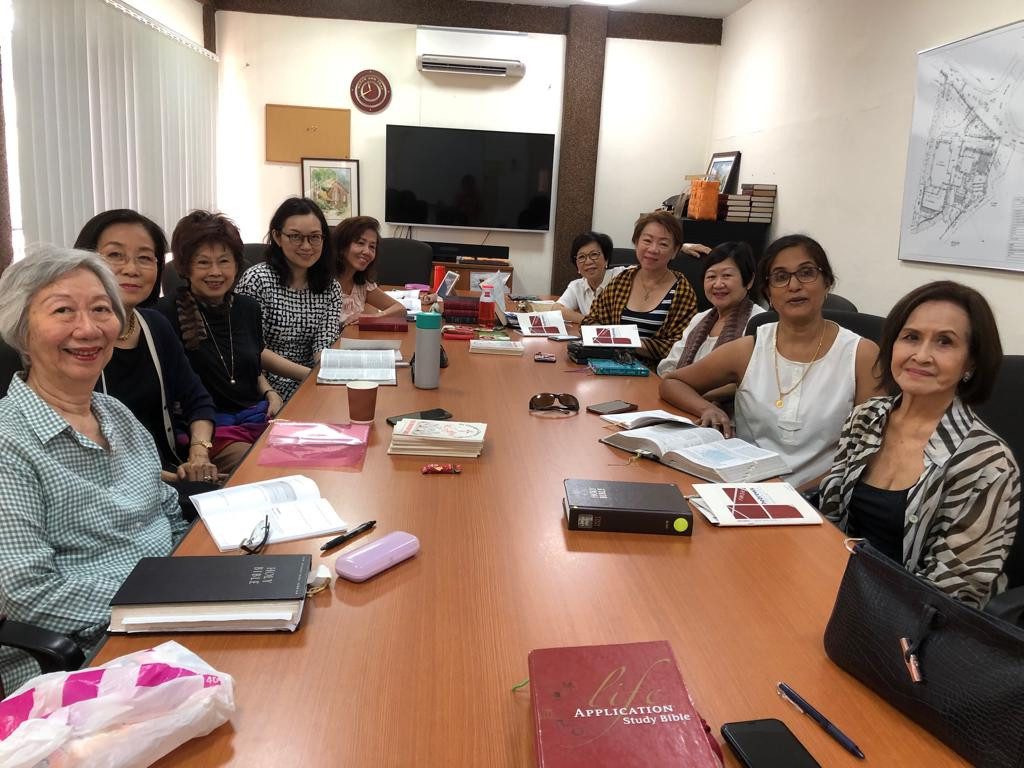 Most groups meet at members' homes across Singapore.
The following groups meet at St. Georges:
Evergreen Bible Study Group (Monday)
Morning Group (Monday)
DE Follow Up Group  (Tuesday)
Bible & Nibbles Group (Tuesday)
Ladies' Bible Study Group (Wednesday & Thursday)
Sunday School Workshop Group (Thursday)
Mens' Breakfast & Bible Study (Friday)
Ladies' Breakfast & Bible study (Friday)
How can I join a small group?
Please email smallgroups@stgeorges.org.sg or speak with the Vicar
The Alpha course is an opportunity for anyone to explore the Christian faith. As a course, Alpha attracts a diverse range of guests of different ages and backgrounds, holding many different viewpoints. It's relaxed, low key, friendly and fun. There is a meal together at the beginning of each session which gives an opportunity to get to know each other.
Listen, learn, discuss and discover. And ask anything. Alpha is a place where no question is too simple or too hostile. And it's supported by all the main Christian denominations.
Why Attend the Alpha Course?
Guests do Alpha for a wide variety of reasons – some want to investigate whether God exists; others are concerned about what happens after death. Some people have particular questions that they would like to discuss; others want to understand other peoples' beliefs or would like to explore what the purpose of life is. Many guests have never been to church, others may have attended church occasionally but feel they have never really understood the basics of the Christian faith.
The Alpha course consists of a series of talks looking at different topics each week. Talk topics include:
Is there more to life than this?
Who is Jesus?
Why did Jesus die?
How can we have faith?
Why and how do I pray?
Why and how should I read the Bible?
How does God guide us?
Holy Spirit Day Away
How can I resist evil?
Why and how should I tell others?
What is Healing?
What about the Church?
Thanksgiving
After each talk, we divide into small groups for a time of discussion.
Alpha is for everyone, especially:
Those wanting to investigate Christianity
New Christians
Newcomers to the Church
Those who want to brush up on the basics
There is no charge for the Alpha course, although you may be asked to make a contribution towards food.
Christianity Explored (CE) is a 7-week course that provides an opportunity to investigate some of the fundamental claims of Christianity in an informal group setting. It is an informal course for people who'd like to investigate Christianity, or just brush up on the basics. It explores who Jesus is, and what his aims were then and remain so now, and what it means to follow him.
Developed by Rico Tice at All Souls' Church in London over a period of ten years, CE uses Bible studies, DVDs and discussion points to address issues that include:
Who Jesus was, and what his aims were
What it means to follow him
The significance of his death and resurrection.
The problem of sin and the wonder of forgiveness
The course is based around Mark's gospel. Participants won't be asked to read aloud, pray or sing. In fact, individuals are perfectly welcome to simply sit and listen.
A Day Away forms part of the course, giving the group the chance to further explore issues raised on the course, as well as any questions about the Bible, the Holy Spirit, prayer and the church.
CE is open to all, regardless of previous experience of Christians or the Church. If you have questions about Christianity – this course might take you one step closer to the answers you seek.
For further information and registration, please contact the Church Office on 6473 2877 or email us at ce@stgeorges.org.sg
I have learned the secret of being content in any and every situation. (Philippians 4:12)
Discipleship Explored (DE) is an 8-week exploration of Paul's letter to the Philippians. It is intended both for those beginning the Christian life and those who would like a 'refresher'.
In particular, it's ideal for people who have recently completed Christianity Explored, and have taken the decision to follow Christ. Paul's remarkable letter calls on the Christians of Philippi to stand firm in their faith, and live wholeheartedly for Christ. His message is as relevant today, as it was then, as he was writing to new Christians who were starting the same journey a new Christian would undertake today.
The course looks specifically at the following areas:
Week 1: Confident in Christ
Week 2: Living in Christ
Week 3: Standing Together in Christ
Week 4: Transformed by Christ
Week 5: Righteous in Christ
Week 6: Knowing Christ
Week 7: Rejoicing in Christ
Week 8: Content in Christ
Each weekly session lasts around two hours, and comprises a group discussion, a short study in Philippians, a stimulating talk and a further opportunity for discussion. The course also encourages independent bible reading and study.
If you are seeking encouragement as you live out your faith, and want to learn more about Paul's proclamation that "to live is Christ, and to die is gain," this course provides both answers and insight.
For more information, please call the church office at 6473 2877 or email to: de@stgeorges.org.sg
You can also visit the official website at Discipleship Explored
St. George's Church is offering training based on the Moore College's Certificate in Theology Course. This is a correspondence course that will help you to understand the Bible better. St. George's provides the study infrastructure which includes:
Weekly Teaching Session
Complementary Study Material
Network with Fellow Students
Optional Examination
Administration with College
You will receive a good overview of the Bible with helpful insight into relevant theological questions. The current course is New Testament 1.
Courses are designed for self-study over a 12-week period. You can continue while you are travelling or if you are leaving Singapore. Check out more details at the Moore College Website
For more details, please contact the church office at 6473 2877 or email moore@stgeorges.org.sg. Course fees are at S$90 per subject.
St. George's provides a Marriage Preparation Course for an engaged couple who wants to develop foundations for a healthy marriage that will last a lifetime.
The course will look into:
the importance of commitment
how to recognise and appreciate your differences
the art of communication
resolving conflict
spending time together
nurturing your friendship
making each other feel loved
developing a good sexual relationship
the importance of talking about your goals, values, and dreams
This course will be conducted over five sessions and is based on Christian principles for relationships.
For more information, please contact the church office at 6473 2877 or contact us.