St. George's Church dates back to the setting up of the British military garrison in Singapore in the late 1860s. Christian ministry was established amongst the barracks by the lay chaplain at that time – Major Malan. Read excerpts from Major Malan's Diary.
Under his guidance, a church building was erected close to the site of the existing church building, between 1870-1890, to serve the men under his supervision.  It soon became clear that a bigger building would be needed to accommodate the soldiers and officers of the garrison. Work began on the new church in 1910 and was completed and in use by September/October 1911. This is the building in which we worship today.  Following the withdrawal of British Army troops in 1971, St George's took on a new role as a civilian church, receiving admittance into the Diocese of Singapore later that year.  Built of red brick and featuring a beautiful stained glass window above the altar, St George's has been the place of worship for many people of different races and nationalities throughout the years – and a haven for those seeking peace and solace away from the bustle of the city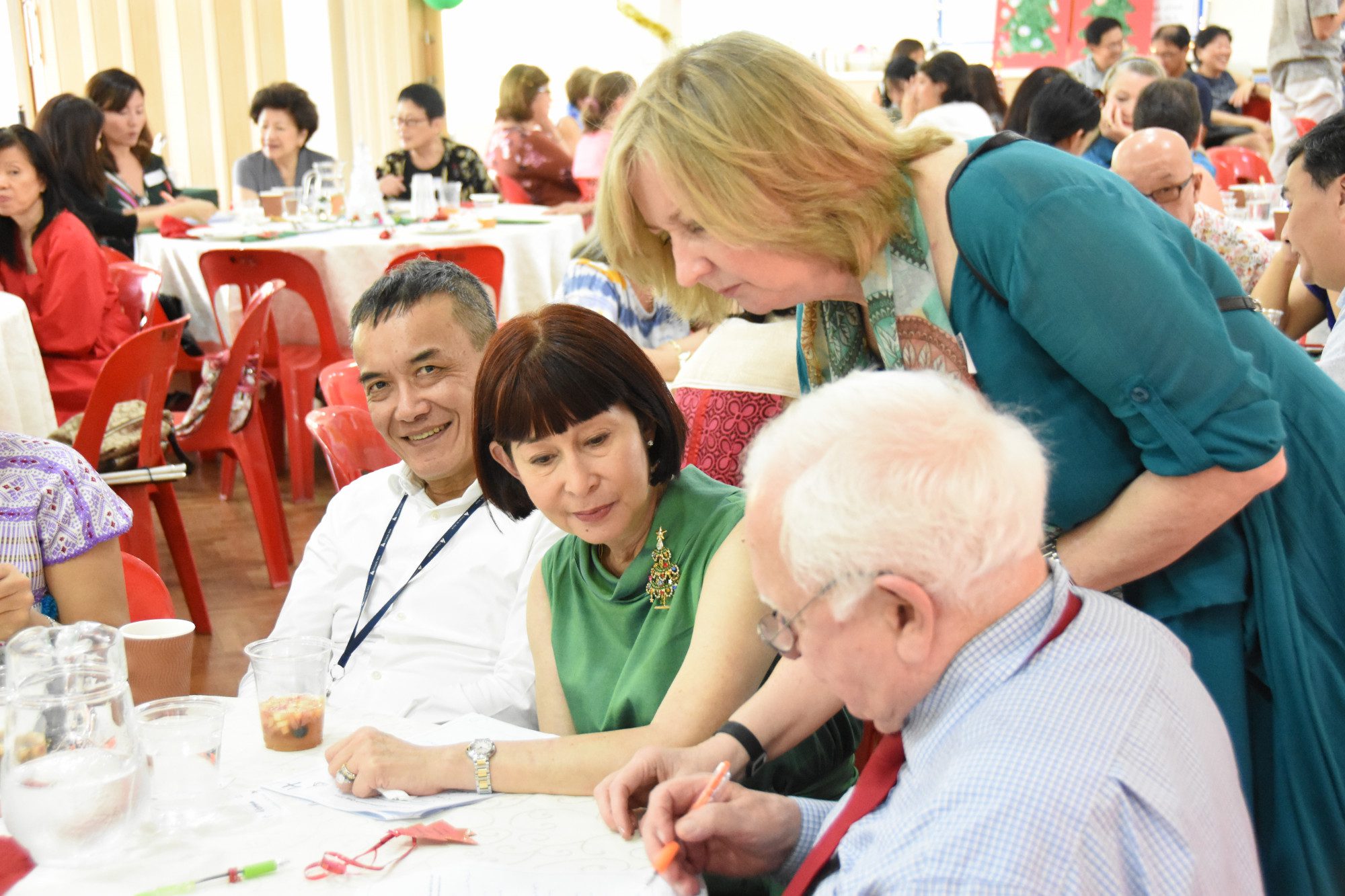 Along with all churches in the reformed Christian tradition, our faith is in the triune God as He is revealed in the Old and New Testament scriptures, and as is articulated in the Nicene Creed.
Our Mission
To present every person complete in Christ. Colossians 1:28
To glorify Christ by living and proclaiming His gospel in Singapore and beyond, and loving and caring for all in His name.
Our Vision
St .George's Church is a growing, multicultural, Christ-centered body of believers, giving glory to God as we:
DECLARE – proclaim and promote the gospel in Singapore and beyond;
PREPARE – equip one another for mission and ministry; and
CARE – reach out in love for one another and for our community, in the Name of Christ.
The following is a speech made by church member, David Jones, at a dinner held in 1996 to celebrate the 50th anniversary of the re-consecration of St George's in 1946, and the 25th anniversary of the admittance of St. George's into the Diocese of Singapore in 1971.
'When it was first suggested that I could give a talk on the history of St. George's church for this celebration, I quickly realised that it would not be an easy task. While St. George's is not a particularly old church, so much has happened to the church during its relatively short history, that it would be difficult to cover everything in a talk of 15 minutes.
The important point to state at the outset is that for the first 60 years of its existence this church was a military or garrison church of the British army. For the last 25 years it has been a civilian church… '
Excerpts from the Diary of Major Malan (1868-1870)
The following account combines excerpts from the diary of Major Malan, the first lay chaplain at St. George's, and commentary from David Jones, a member of St. George's congregation
"From the time that God in His mercy led me to believe His Word, my whole heart was set on trying to glorify Him in the army. My desires were all to this end; and when our desires are in accordance with His will, we may leave them to Him to fulfil according to His infinite power and wisdom.  Often when riding or walking alone, I had thought, 'How I should like to be in command of a body of our men in some desolate island or solitary place, where there was nothing comfortable, and everything for the men's comfort depended on me. How I should like to show them what a Christian commanding officer could do! I would let them see, by God's grace, that a Christian can work as well as any other man.' This desire had recurred again and again in my mind.
The island of Singapore was the place in which this desire was to be fulfilled. I found, on my arrival there, that the men of my regiment were in a state of the utmost discomfort. The barracks were only recently occupied, and had been built in the centre of a tropical jungle which swarmed with cobras, rats, frogs, and mosquitoes up to within a few feet of the very doors of their barrack-rooms. The rats ate the men's things; the snakes came into the barracks; the frogs croaked all night; the mosquitoes gave them no sleep. This is no exaggeration. Add to this, the intense heat. There was no clear space for outdoor games; and a small parade ground, and the narrow earth roads with thick jungle on either side, were the only places for exercise. My brother major had done his best for the men, and had got such things as he could procure in Singapore, and had opened a recreation room. But this could not, of course, obviate the discomfort of the barracks; and the heat, and sleepless nights, and no out-door recreation caused a crowded canteen, and a great deal of drunkenness.
Such was the state of things when I was put in command of the barracks. I saw the need of some earnest and decisive measures, but the obstacles appeared insurmountable. There was one resource for me. And that was prayer. I felt that I was responsible, alike to God and to my country, for the lives of these men; and that, unless something was done, many of them would perish by drink, and others would commit fearful crimes. I remembered Solomon's prayer for wisdom, and I opened my Bible, and earnestly did I pray it: 'Now, O Lord God, let Thy promise be established; for Thou hast made me. Give me now wisdom and knowledge that I may go out and come in before this people: for who can judge?' (2 Chronicles 1: 9,10)
The Tanglin Barracks, at Singapore, are situated on two high plateau, on one of which stands nine bungalows, the same size as those in the picture, and on the other, two more, forming the hospital. These large buildings, built to allow a free circulation of air between them, covered most of the available space. To clear the jungle all round them to a sufficient distance was no easy matter and the constant heavy tropical showers make growth of vegetation so rapid, that unless every shrub is not only cut down but rooted up, the jungle will grow again as strong as ever in a few months. There was another difficulty: the barracks were thatched, and there was great danger in burning the jungle within a few feet of those large roofs.
I rode round the barracks day by day after my arrival, thinking. I had prayed to God; and I felt it to be my duty, for my men's sake, to work, leaving the results in His hands. The jungle must be cleared.
I wanted to make a short cut for those on duty between the main road and the guard and orderly rooms. This was begun by the defaulters – men under punishment; but finding that they were unskilled in this work I determined to employ local labour and sent my own gardener and his friend to work with them and show them the way to go about it.
The wonderful change which this clearing made in the appearance of the barracks – removing gloom, and letting in light – and the interest, which the men took in this first beginning, encouraged me to go on. Happily for my men, the officer commanding the troops at Singapore took a deep interest in the British soldier, and when I told him my plans, at once offered to help me, out of a public fund at his disposal for the improvement of Government property. With this help, with some assistance from the canteen fund, and giving the men the services of my Malay gardener and his friend, I determined to work in earnest. I issued an order that men who were willing to work for the public benefit and for the improvement of Government property should be excused all parades, except commanding officer's parade once a week; names to be sent to the orderly room.
I had the willing consent of the whole detachment – 400 men. I obtained pickaxes, spades, wheelbarrows, and grass knives from the Commissariat. Then I put another eight Malay labourers under my gardener – a very intelligent man – and gave him my directions as to the initial cutting back of the jungle. As fast as it was cut down by the Malays, the British soldiers gathered it, and then with pickaxes, they dug up the roots and carted it away.
I was one day going round the barracks on duty, not long after the first clearing was made, when I halted outside a barrack-room which stands above the cricket ground. Looking down upon what was then thick jungle between me and the canteen, I said to my sergeant-major: "What a great place this would make for a cricket ground! I'm an old cricketer; I used to be very fond of cricket. I'll tell you what it is, we'll make a cricket-ground… It would be good exercise for the men". I looked at my friend's face. There was a very placid smile upon it; and while he stood strictly at attention, he looked at me, as much as to say, 'If you had a whole army here, you would not do it.'
Within six months of that time the jungle was gone, and there, in its place, was a cricket-ground, having a turfed level ninety yards long, forty wide, and this level had been made in the slope of a hill! How often, after it was finished, as I rode or walked up to the hospital to talk to some sick comrade, have I seen the slopes of the barracks covered with men, watching their comrades at play; and how I have lifted my heart in thanks and praise to God, who gave me the wisdom, energy, and the faith in Him to attempt and carry out such an undertaking!
The making of this cricket-ground was a work of very great labour. The cutting of the jungle and rooting up the trees was the least part of it. Day by day I committed my work to God in prayer, and I felt sure that He would bring it through. I should otherwise have suffered a great deal of anxiety. It was wonderful how He guided and strengthened me. I knew nothing of engineering, and yet here I was making a level in a slope without either knowledge or instrument. I never thought about this until it was finished. Morning and evening I was the first at the work, the last to leave it. I gave the men sometimes a day off, sometimes a morning or evening, but with every party I worked. God gave me the strength for it, for I often felt ready to drop. The physical exertion and the heat of the sun, under which I often stood, though I did not allow the men to remain under it, sometimes nearly exhausted me.
When the jungle was cleared, it had to be burned. On one occasion, after it was fired a breeze sprung up, and drove the flames down towards a little thatched building near the canteen. I saw the flames almost touching it, and high over it. If that building caught, the canteen would go too, and then, if the wind increased, the whole barracks!
I had ordered the bugler to sound the assembly, and then I prayed, 'Lord, change the wind.' Instantly – it was a marvellous sight! – the wind changed and turned the flame right round.
After the ground had been levelled, the re was one thing more wanted for a good cricket-ground –good turf. This I had discovered about half a mile from the barracks, when carrying out my routine inspections – the only real turf I saw in Singapore. It belonged to an elderly Chinese gentleman, who very kindly gave it to me for the cricket-ground. This turf was cut and brought to barracks, the men using ammunition carts.
Last of all there was the rolling of the ground. This was done by means of a large Government roller, which had been used with bullocks for the parade ground. My men soon got it on the cricket-ground, and a company at a time rolled it along to the accompaniment of fife and drum. Thus this work was complete. 'No-one but you ever thought it would be finished,' was the remark one of my brother officers made to me! Except the Lord had put it into my heart, and given me the wisdom, I should never have done it. It had been a great pleasure to me, working with the men, especially as the occupation of their minds and bodies had done their whole morale a great deal of good. They all looked much healthier and brighter. The number of cases of drunkenness fell dramatically.
The cricket-ground was only a part of the work. We after wards cleared a space twice as large, and made three more practice-grounds. The whole barracks were surrounded with flower-gardens. The laying out and arranging of these was a delightful relaxation for me and the men. Then, on the other side of the barracks, we built a gymnasium. It certainly made a very great change; and when it was all finished, I felt that the Lord had given me the desire of my heart in that particular. He had given me command of a body of British soldiers, and by His blessing and guidance, He had enabled me to do as much as any man could for their comfort.
The men themselves took very great interest in their gardens. The once gloomy barracks were now brilliant with color.
Yes there was so much more that God enabled His servant to do during his two and  half year command in these barracks. His second desire was to be able to tell his men about the Lord Jesus Christ, who loved them and gave Himself for them.
There was no regular Military Chaplain, so every Sunday, as Commanding officer, it was his duty and great joy to read God's word to his men and tell them of the love and power to save of the Lord Jesus Christ. They sang very heartily from the hymn book he had complied in 1863, finishing with prayer. After which was a hearty AMEN.
A Sunday School was started with the help of a schoolmaster – a corporal in the Regiment. All the married people sent their children along so it was a full 'house' or schoolroom. It was a joy to hear them sing. He loved those children dearly, and when he was weary and worn out with work on the cricket-ground followed by two hours counseling and dealing with problems, he would go into the schoolroom and ask the children to give him his Text.
All with one accord would recite – 'Blessed is the man that trusted in the Lord and whose hope the Lord is.'
A Bible class for married women was started and continued for more than a year, until eventually he was able to hand the meeting over to a dear friend who was in charge of the Chinese Girls School just off Orchard Road. She was able to visit these ladies in their homes.
It certainly wasn't easy going – plenty of opposition, but God gave him very plain assurance that –'Greater is He that is in us, than he that is in the World.'
He also had refreshing fellowship with many other Christians in Singapore, encouraging and being encouraged. Much more we could tell. But you will have to read it for yourselves.
But surely this was the start of the Christian Testimony at these Tanglin Barracks, under girded by prayer 120 years ago. From Jungle to Church? No, not a building but a Body of Christ on Earth.
Officers of the American, French, and Austrian navies, who came to call on us, were much struck by the appearance of the barracks, and could hardly believe that it had been done by them themselves assisted by some men with local skills
My life is hid with Christ in God;
How safe, how blest am I!
For me to live 'tis therefore Christ
And therefore gain to die.
I would not change this blessed state,
The gift of freest grace,
For all the world could offer me,
Of glory, wealth or place.
I would not give the Christian's hope
For everything on earth:
In Christ I am a son of God,
A king and priest by birth!
How great His love who honored thus
A sinful child of man!
Eternity will be too short
To tell Redemption's plan.
O ye that have no hope in God,
Why do ye doubt His love?
His Son has bought you by His blood;
He pleads for you above.
Why do ye cast away the grace
To all who take it given?
Christ calls you,
'Come thou, come to Me!
I'll bring thee safe to heaven.'
Oh, come to Him, and you will find
In Him unceasing measure ?Of joy and peace!
His yoke is sweet,
His love life's highest pleasure.
A soldier who committed his life to God and proved,
"There is nothing that God's love and power cannot do – right here in Tanglin"
It was my joy to see during these two years the power of the Holy Spirit, as I had never seen it before among soldiers. If Satan worked – and he did – the Holy Spirit worked also. Among my guests there came the Bishop of Borneo. He gave the men a service, and at our request announced a commemoration of the Lord's death for the following Sunday. I felt that this would be a test of the extent to which the Word had influenced those who professed to believe in the Lord Jesus among my men. Would these come to the Lord's table with us, as one body in Him? I said nothing. When the time came, to my great joy all our little band assembled, and together we remembered His death in whom – now risen and glorified – we believed. It was a very happy and blessed occasion to me. I can never recall it without thanking and praising God.
What delight I had during those two years in the study of His Word! I often gave five hours a day to it. I commenced the first line of Genesis when I left England, and I went on over every line, annotating page by page. It was this that gave me strength for my work. Nothing but the thorough rest and refreshment which the soul of man gets in the quiet study of God's Word could have sustained me in the severe physical labour I had at this station on the equator. Working hard as I did all six days, and still harder on the seventh, I should have been soon completely worn out, if it had not been for the continual renewal of strength which a man obtains in the study of God's Word. He giveth power to the faint, and to those who have no might He increase the strength. I could not, perhaps, better express the state of joyful communion with the Lord in which I lived during these years, than in copying a few lines I wrote one morning before going down to the barracks on Duty. They flowed out of my heart faster than I could write them.
The following is an extract from a talk given by church member and architect Richard Heald, at a dinner held to celebrate the 50th anniversary of the re-consecration of St. George's in 1946, and the 25th anniversary of the admittance of St. George's into the Diocese of Singapore in 1971.
"Architecture is about people and as we've heard tonight, St. George's too is about people, and the people that have gone before us here. But the architecture is also about the three dimensional form of buildings – about the joining of complex and subtle shapes in an honest and sophisticated way to form something that has a function. At the same time it is about all the details that go together to enhance that form and to tie all those functions together. And St. George's Church is a classic illustration of this. But let me give you a little background.
But perhaps what I like most about it are its many gentle subtleties. A lot of these, as with any friendship really, you only begin to realize after you've known the building for a while. For instance, I have tried to draw this church several times. I apologise for one of those attempts, which for some reason has been put on the front of the service books! Although as I say, it is a very simple, open and honest building, it is also very beautifully proportioned and very subtle in its line. So what appears to be a fairly simple thing to draw, turns out to be very tricky. It really is very difficult to get it right in a drawing – the perspective, the line, the sheer gravity and elegance of the building, are very difficult to capture and convey. You should try it some time.
Another aspect of course, and tonight is a great time to see this if you haven't ever done so before, is the completely different character that the building assumes at night-time to that which it has in the bright light of day. Very few modern buildings have this quality any more. From its solid, bluff and cheerful look in the daytime, this building at night, with the lights on inside and perhaps the sound of singing from within, or the sounds of the jungle all around, acquires an incredibly serene and gentle
The style of the architecture, the form of this church, harks back many, many centuries to the very first specifically Christian churches of the Romanesque period in Europe – by that I mean the fourth and fifth century A.D. For it was not until then that Christendom had become sufficiently powerful and widespread to have generated and developed a style of building for worship that could be called unique. That style was called the "Basilica".
The Christian basilica is basically a long rectangular barn, based on the already refined form of temple that the Greeks had perfected in ancient times and which the Romans had copied, a rectangle with a pitched roof and columns all round it. You came in at one end, where there are usually different doorways, and you faced the front. The action all happened up at the alter end, and whether you sat or wandered about, this was the basic format.
It was adapted over the centuries, got bigger and wider by various devices that I won't bore you with now, and gained more and more elaborate features to add to their prominence within a city and to show off the Church's ever increasing wealth and power. But the form has stayed very much the same and it is very functional. St. Paul's Cathedral in London has this form, although you can hardly see it any more, and every little and great parish church in the world often has it too.
And as I said, St. George's is a classic illustration of this. It is rather like a great big barn! It has the elegance and the feeling for function of a barn – simple and very robust – and yet at the same time, because of its echoing of the classic Basilican shape, its details and its position, it has a clearly sacred aspect. The throwbacks to the temple shape are still there – the end-to-end symmetry, the pitched roof with the triangular gables at each end, the columns in the arches down each side and on each end, the distinct feel of an entrance at one end and an altar at the other – all that the Greeks had three and a half thousand years ago. The exact style is difficult to define. Some people think it has a Spanish or Moroccan feel to it, which I suppose is true, especially with its tiled roof. The arches in some ways are very Italian.
I love the building very much – I'm sure we all do, for all kinds of reasons and for all the memories that it holds. As an architect, I love its space and its airiness, and the fact that it is so much of a really honest building, and so very beautifully built. By that I mean that nothing is covered up with fake panels or pretend surfaces that hide how a building is really made – what you see is what it is!
It is built of brick and the bricks that you see are all that there is – carefully laid to hold together, to support the roof, to keep the rain out and the breeze coming through and to filter the sunlight so that it is bright but never too glaring, even in the bright light of midday here. And all of this is quite deliberate and has been designed like this. At the same time as doing all that, it has lots of lovely details too, that have all been skilfully made and are for no other purpose than our enjoyment and to refer back to a whole wealth of architectural styles that have gone before.
So there are "egg-and-a-dart" moldings – a classic detail that was developed first by the Greeks –literally a row of eggs and little arrow heads or darts! Here at St. George's they are carved into the bricks themselves: it would be interesting to know if they were carved before the bricks were fitted together or they were done in-situ, once the bricks were there and the mortar had set – I can't tell which it is!
There are "dentil" moldings too, made out of the very shape of bricks themselves, just laying them in different ways. "Dentil" is from the Latin word for teeth – and they look just like a row of teeth! And there are the various different shapes of the openings themselves which of course are all there for the good reason of generating a breeze through this great big barn – I mean church – in our lovely hot climate. They are all made from real, structural arches and, in the case of the circles, double-arches – one on top of the other. These are true load-bearing arches – if you took out the top-most brick, the "keystone", then the arches would fall down!!
There are other little slots too, with two bricks resting against each other, rather like when we build a house of cards. And there are what we call segment arches too – these are not semi-circular arches but just a segment of a circle which forms a flatter arch!
The roof too is a simple and honest tied truss, all made from timber, apart from the thin little steel ties that pull them together and stop the huge weight of the tiled roof from pushing the walls outwards! It's all there – you can see it and you can work it out for yourself. The trusses sit in tiny little crow-steps or, this time from the French word "corbiere" for crow, "corbels", little stone brackets that are built into the brickwork between the arches.